Hong Kong Company Formation with Bank Account 2021
Are you looking for a low-tax system and an attractive business environment for your global operations? Despite the difficulty of starting a new business, finding the right location will provide you with the boost you need to succeed.
Hong Kong is rated as one of the top global cities for business establishments. The city offers an attractive business environment, a secure business environment, and low incorporation costs that support the development of businesses.
As a foreigner, Hong Kong is a great place to incorporate a new business and open a bank account if you want a strong and stable financial center in the world. The process of forming a Hong Kong company and opening a Hong Kong bank account will be clarified in this article.
Company Formation Hong Kong
Setting up a business and starting a new life in Hong Kong is a great idea. With a simple tax-regime system and free-market principles, the city offers low tax rates for residents. The country does not regulate inbound or outbound investments, nor does it restrict ownership based on nationality.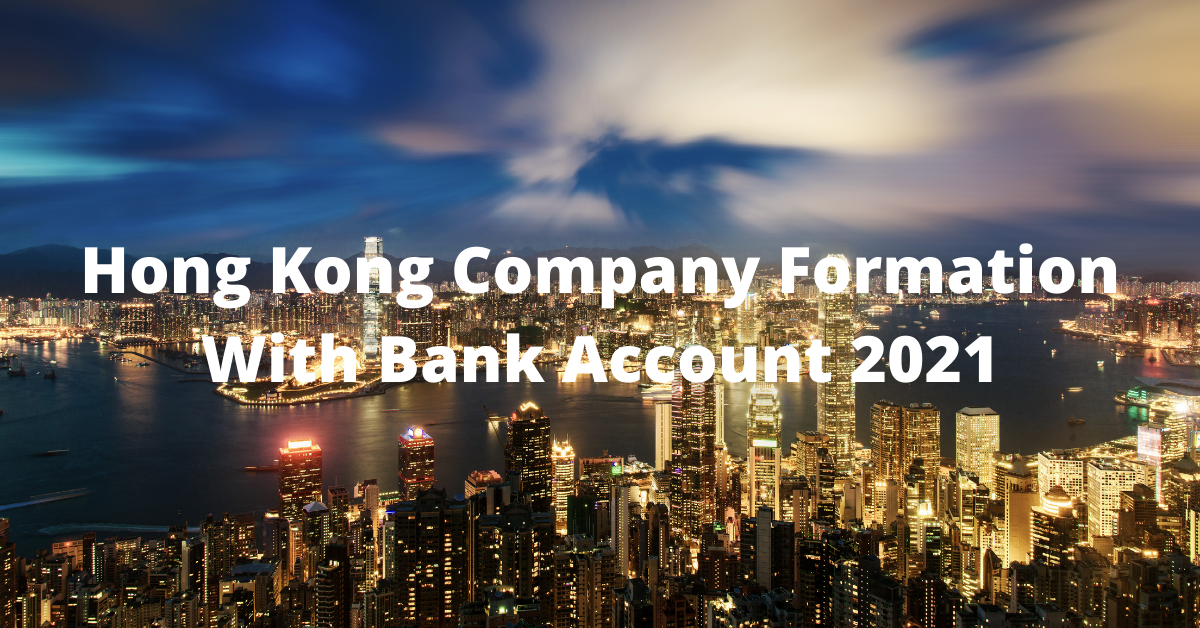 Why should you start a business in Hong Kong?
Business owners value Hong Kong's favorable location in the heart of Asia, ease of getting a business license, low taxes, and productive workforce, all of which contribute to the city's success. Its success. Investors and business owners from all over the world flock to this location because it is one of the best places for investments.
These are the major advantages of setting up a Hong Kong company that demonstrate why it remains an important and valuable jurisdiction for businesses:
An ideal location for strategic purposes
As Hong Kong occupies a strategic location in the heart of Asia, businesses are able to take advantage of a wide variety of trading opportunities, particularly in China. Hong Kong has this advantage over other locations around the world, and is one of the main reasons why companies choose Hong Kong for their headquarters.
The ease of forming a company in Hong Kong
In Hong Kong, forming a company is easy, which makes it a great place to start a business. As Hong Kong's registration and incorporation processes are simple and straightforward, a company can be set up in 3 to 5 days.
An attractive tax system
Businesses are most concerned with policies that allow them to operate efficiently and with low taxes. Such policy features contribute to business success in a particular jurisdiction. In Hong Kong, business ventures can succeed due to a friendly tax regime and legal infrastructure.
Hong Kong has a territorial tax system under which companies only pay tax on profits generated within the territory (at 16.5%/8.25% corporation tax); no tax is collected on foreign income. Dividends or interest are not subject to withholding taxes, nor are sales taxes, capital gains taxes, or inheritance taxes. For this reason, Hong Kong is considered a low-tax jurisdiction.
High Productivity
A highly-skilled, well-educated, and highly-trained workforce with strong ethics makes Hong Kong a great place to work. In Hong Kong, most workers are professionals and entrepreneurs who have extensive experience and know-how of the growing business culture.
Millions of businesses in Hong Kong are attracted by the legal system and the business-friendly tax policy.
Hong Kong's company types
You need to decide what type of business entity you want to form before you can start your business in Hong Kong. You will need this information for tax matters and policy issues.
Structure and objectives of a company should be the same. Hence, companies should choose the right structure for their business ventures. Listed below are some examples of common Hong Kong business structures:
Limited Liability Company: Limited liability companies are the most popular business entity in Hong Kong. The business structure protects the personal assets of owners from the risks and liabilities of the business. The company itself is treated as an independent legal entity apart from its owners.
Sole Proprietorship: An easy form of business structure to set up in Hong Kong is a sole proprietorship, which is small in scale and low in risk. Despite this, these types of business structures are not recommended for entrepreneurs as they do not have the distinction of being a separate legal entity, therefore, they do not offer protection of the founder's personal assets from the business's responsibilities.
Business Partnership: Business partnerships are the next type of structure. Shared ownership of a Hong Kong limited company allows two or more people to share ownership. Furthermore, they are able to share business responsibilities and have a greater opportunity to raise funds for expansion. Each partner is jointly and individually responsible for the actions and debts of the other partner.
Foreign Company Office: The representative office, subsidiary, or branch office can be registered by any foreign company seeking to operate in Hong Kong.
Hong Kong Company Formation Steps
In addition to deciding what type of business structure you want to create in Hong Kong, you must also take into consideration the various aspects that will influence the company's success.
Although it is easier to establish a company in Hong Kong than in any other major city around the world, you still need to follow some steps. Are you interested in starting a business in Hong Kong? Check out these steps to build a business there.
Select the type of business and its name
Choosing a company name is the very first step. Chinese and English names can both be used. Name the company using a unique name that is not already being used by another entity. Whenever you have difficulties locating a unique company name for your Hong Kong company, you can contact with the online company register website to see whether it is available.
Your next step is to determine the type of business structure you will use once you have determined the name of your company. Taxation and business policies are all affected by the company's structure, as discussed above.
HK company registration
You must register your company with the government after you have chosen a name and structure for your company. Registering a company will provide many benefits, such as protecting it from risks and liabilities, as well as securing your rights.
A local Hong Kong address needs to be the registered address of your business in Hong Kong in order to be able to register a Hong Kong company. Note, however, that a PO box address cannot be used as your registered address in Hong Kong, which means you must have a physical address.
You need to open a bank account
It is also important to open a business bank account in Hong Kong before forming a company. Your brand will be portrayed in a professional and reliable light, which will further foster a positive impression in your customers' minds. The company should open a corporate bank account as soon as it has been registered with the HK government.
This is a fairly straightforward process. All the necessary documents need to be collected in order to start the process. For opening a corporate bank account in Hong Kong, you will need to provide the following documents.
Incorporation documents for the company.
Original business registration certificate for the company.
The supporting business documentation, such as audited financial statements, business plans, contracts, and invoices.
Ensure you have all the documents that the bank asks for, including certification by a CPA, a banker, a lawyer, or a notary public.
How to open a Hong Kong company's bank account?
In order to conduct business in Hong Kong, it is necessary to open a corporate bank account. The brand becomes more credible and also becomes more popular among customers. You need all the required documents to open a bank account, but the process is fairly straightforward.
Banking in Hong Kong
Hong Kong ranked 3rd in the Global Financial Center Index 2019 as one of the world's leading banking sectors. There are 71 international banks in the country, and a daily volume of foreign exchange of $274.6 billion. Hong Kong is a great place to start a business to have access to numerous international banks and to be located in the heart of a global financial hub.
However, you have to ensure that the process is followed correctly before you open a bank account. Selecting the bank that will best suit your business needs is essential if you want to ensure all your needs are met.
HK banks: Alternatives
Many businesses have moved away from the traditional method of conducting business to online banking due to the internet and digitization. The demand for international bank accounts and virtual banking in Hong Kong has been growing as a result.
Hong Kong offers self-service banking through mobile applications and at-the-window service through virtual banking. Banking of this type allows customers to have direct communication with their banks through the use of video, audio, and chat channels.
Virtual banking in Hong Kong primarily serves to replace physical branches with various electronic channels.
Opening an offshore account or an international bank account online
For foreigners who cannot travel to Hong Kong, international bank accounts offer numerous advantages. Foreign or offshore accounts are those that are opened in a jurisdiction different from that of the company. International bank accounts or offshore bank accounts have become an excellent option for foreigners who wish to open a bank account in Hong Kong without physically being there since COVID-19 has restricted travel.
A business owner can operate in multiple currencies with an offshore bank account without having to pay high fees. Additionally, business owners can obtain credit and debit cards linked to different currencies, and take advantage of special investments and discounted international payments. Accessing your finances from anywhere in the world is easy with online banking.
Hong Kong bank account opening requirements
The following requirements must be met in order to open an account with HSBC, ICBC, Bank of China, Citibank, or any other HK bank:
There must be a physical address in Hong Kong. It is crucial that the office rental agreement is submitted in Hong Kong's company name if it is on a lease.
China or Asia must be the focus of the business operations
If the company director is in Hong Kong, he or she must have a HK work permit or ID card
The bank account can still be opened if none of the criteria above apply to your business. In this case, you would need to provide a compelling argument. It is possible to schedule an appointment for you with Hong Kong banks such as Hang Seng, OCBC, Wing Heng, and Standard Chartered through the online company register team.
Because Hong Kong's banks have strict requirements, their due diligence processes can be a bit complicated. Online company register team can help you open a bank account in Hong Kong despite all the obstacles. Online company register team is neither responsible nor liable for a bank's decision to open an account for a specific company. (Banks have the right to decide whether to open an account for a particular company or not.)
Procedural Requirements For Opening and Closing Company Bank Account
Financing is the most important aspect of any corporate entity. Accounting and finance act as the back bone of the corporate structure without proper accounting structure and framework there is no corporate nor financial prospect of the company.
Realizing vitality of accounts, Cap. 622 has the provisions related to this matter. As per the general view of these provisions of Cap. 622; A corporate entity is required to keep and maintain financial records of the company and in addition to this a company is supposed to prepare annual audited financial statement of the company and meant to disclose it to shareholders of the company and if company is a public company then such disclosure shall be made to the general public.
These liabilities are to ensure that investors and creditors of the company should be kept informed about the financial performance and current financial position of the company.
Such types of statutory requirement regarding audited accounts statement are the result of public campaign which introduced the public revelation of the company's accounts so that fraud on part of investors shall be avoided by the joint stock companies and that was the basic motivation which was concluded as the introduction of such provisions in 1st Companies Act of the England, back in 19th century.
This didn't remain there, and such disclosure doctrine remains an integral part of modern company laws and serves as the beacon of light for matters related to corporate governance even in today's world of modernization and versatility.
Cap. 622 does not completely change the script of provisions of predecessor companies ordinance, but it poses some modifications for the provisions related to accounts and auditors of the company. Some of main modification are as follows:
The amendment poses the modification in some of terminologies such as predecessor companies ordinance has the term "accounts" which now has been replaced with the term "Financial Statements".
The modifications now have the new provisions related to the determination of financial year for the company.
Cap. 622 omits the provisions related to the statutory content of the financial statements of the company and thus in this way Schedule 10 and 11 of Cap. 622 now have been repealed.
The amendment now has extended the scope and nature of circumstances where simplified reporting can be adopted.
The enacted modifications in the Cap. 622 has enhanced the rights of the auditors.
We shall discuss these modifications and other matters related to accounts of the company later on. Stay tuned with us and keep reading to enrich your minds with legality of company's pre- register and post registration process. Now let's move to the procedural obligations pertaining to operations and maintenance of company's bank account.
Read here: How to set up a company in hong kong?
Bank Account of a Company
Dealing in cash is the very depreciated and unappreciable practice in corporate world thus to run the financial affairs of the company, a bank account is indeed in dire need. Now we shall discuss the matters related to the opening criteria and operating mechanism of corporate account in the bank because company's bank account will be quite different from conventional bank accounts.
It is a well-known fact that pertaining to relevant circumstances company's account would have to closed, if opened and may need to be re-opened or open a new one, there is one key point that must be remembered which says that any such closure or opening of bank account should occur with the consent of director(s) of the company.
Opening a Bank Account
Every task in corporate world is done by following a pre-defined procedure and contravention of prevailed procedure results in the penalty. So, for opening the bank account of the company, a resolution should be presented before the board and must be passed in order to open the account. Below is the sample resolution in this regard:
That a HK$ current account needs to be opened in the name of the company with the XYZ Bank in its Central Branch in Hong Kong. This account shall be operated by the [name of the director(s) or person(s)], singly or if jointly then [name of the person(s) or director(s)] should operate this company's bank account.
When the resolution shall pass successfully, in accordance with company's constitution then printed form of this passed resolution shall be the part of meeting's minutes. Now let's come to the documents which needs to be attached with the account request form to the bank so that bank can proceed with its legal and corporate obligations. Following documents should be attached with the bank's account request form:
Evidence that board has authorized and passed the resolution related to the opening of bank account.
A certified and authentic copy of company's certificate of incorporation Hong Kong.
A certified and authentic copy of business registration certificate of the company obtained after certificate of incorporation Hong Kong.
Declaration of the directors which primarily discusses the particulars and credentials of company's director and principal shareholders of the company.
A certified and authentic copy of company's Incorporation Form which may in other words knows as Form NCI or NCIG. Whereas if this document is not approachable or could not be submitted due to any reason then notification pertaining to the change of company secretary Hong Kong or directors typically known as Form D2A, would be suffice.
A certified and authentic copy of following documents from the company's directors, beneficial owners of the company's shares and principal shareholders of the company:
Any identification document such as Hong Kong National Identity Card or Passport.
Proof of former name/ alias, if applicable.
Any essential proof which can either be in the form of utility bills, bank statement(s), lease agreement or property document or valid driving license.
List consisting of signatures of the signatories specimen, which must be attested and verified by their respective banker.
Any proof of business which may include business plans, business model or audited financial statements.
Initial deposit.
A duly filed and signed bank account request form.
Disclaimer!
There are some notes for the sake of disclaimer and to let the reader of this article aware of do's and don'ts while following this procedure. These disclaimer or cautionary notes are:
Copy of documents which are being attached should duly be attested and verified by any certified public accountant, banker, lawyer or company secretary Hong Kong.
It must be make sure that principal shareholder is any such person who is entitled to control and exercise his/her voting rights as equivalent to the person having 10 percent or more voting rights of the company.
If the company has the corporate structure as that of company with corporate shareholder then such company shall be required to submit certified and verified copies of organizational chart which articulate the percentage shares hold by each shareholder or individual and clearly mentions the beneficial owners of the company and for this authentic submission should be furnished in which beneficial owners of the company are clearly discussed.
If records and facts show that ultimate beneficial owner of the company is a trust then company should furnish trust deed or any declaration which clearly mention the credentials and particulars of trustees, settlers and beneficiaries of this specific trust.
If establishment of the company has the concept and appointment of nominee shareholders then details of ultimate beneficial owner of the company must be submitted.
There is one security feature or provision which can further strengthens the security aspect of company's bank account. Necessary security measures should be taken so as to ensure secure use of company's accounts. It is advised that whenever the bank's signatory operates the bank account of the company, on behalf of the company then company's rubber chop should be stamped at the place where signatures are required. Where company's rubber chop is not found then signatory shall personally be held liable for that transaction or any amount withdrawn on the cheque, signed by signatory.
Changing the Signatory
Corporate world is full of abuses and probability thus exist each and every time that any person whether in executive or managerial position can indulge in fraudulent activities. Financial fraud leads all other types of fraud because the harm it can cause shall last longer than any other corporate fraud after create a company in Hong Kong. Now let's get familiarized with the procedure through which signatory can be changed. Simply approval of company's board is needed to change the signatory. Have a look on the sample resolution below:
It is submitted that method of operation of company's HK$ current account no. XX-XXXXX-XXX opened in the Central Branch of XYZ Bank, Hong Kong, should be considered cancelled, revoked and that in future this account shall be operated by [name of the person(s) or director(s)], jointly.
Just as we need to submit certain documents while opening the bank account, certain documents shall need to be submitted while changing the signatory, these documents are:
A duly signed covering letter should be submitted by the outgoing bank signatory notifying about his/her leave and change of bank of signatory.
A certified and authentic copy of the board's approval of resolution pertaining to change of bank signatory.
The person who has been appointed or is being appointed as signatory needs to furnish following documents to the bank:
Any identification document such as Hong Kong National Identity card or passport.
Proof of any former name or alias, if applicable.
Proof of residency in either form of utility bill, lease or property agreement, bank statement or valid driving license.
List which contains signature of the specimen signatory, which further should be verified and attested by the banker.
If required then new bank mandates should also be submitted.
Closing of Company's Bank Account
There can be the situation where company needs to close its bank account after create a company in Hong Kong such as in the situation of winding up of company, consistent financial irregularities and many more. Because there is no word of absolute in the corporate world. Let's summarize our discussion and now let's come towards the procedural matters related to the closing of bank account of the company.
First of all, we need to present the resolution before the company's board of director that in xyz situation it is quite obvious that company's bank should temporarily or permanently be closed. Sample resolution is as follows:
It is submitted that company's HK$ Current Account no. XX-XXXXXX-XXX, opened in the Central branch of XYZ Bank in Hong Kong. Now pertaining to [explain the reason, if applicable] company's bank account should be closed and for the procedural formalities, bank should be notified accordingly.
It must be noted that, process for the closing of bank account shall only be processed if company's board ratifies this proposed resolution. So, after obtaining board's approval to commence the proceedings of closure of bank account on the part of bank, certain procedural obligations are needed to be followed. Following are some of the documents which needs to be submitted to complete these procedural obligations:
A duly signed covering letter should be submitted by the existing bank signatory of the company in which he/she should notify bank about the closing of company's bank account. In addition to the closure communication, covering letter should contain the instructions regarding disposal of balance of funds in company's account.
A certified and authentic copy of the board's ratification pertaining to closing of company bank account needs to be submitted to the bank.
Do I need any documents to open a bank account for a Hong Kong company under KYC?
KYC personal certificates are required to open a bank account in Hong Kong. A certified passport copy is required for any shareholder with 10% or more shares in the company, for all directors, and for all beneficial owners. Director's bank references are also required.
For a Hong Kong company, how long does it take to open a bank account?
To open a bank account in Hong Kong, business owners as well as shareholders, directors, and beneficial owners must be physically present. To open a bank account in Hong Kong, the appointment must be confirmed with the banks within 7-20 working days. Some Hong Kong banks have moved their online application process to compensate for travel restrictions resulting from COVID-19.
For more information on how to open a bank account if you can't visit us in Hong Kong, please contact us at online company register.
What can Onlinecompanyregister.com do for you?
The purpose of this article is to describe the benefits of forming a Hong Kong company, different types of business structures available to owners, and the importance of opening a business bank account. From international business accounts, virtual banking services to traditional type businesses, there are many options available to open a bank account.
Online company register team can help you open a bank account or start a business in Hong Kong! With thousands of satisfied customers over the years, we have incorporated thousands of companies. Contact us for help with your banking needs.